Brews 'N Bones
The first event on the AAC 2017 competitive schedule is Brews 'N Bones, which will take place at an awesome new venue in Bluemont, VA. Registration will start at 10:30 and the competition will begin at 11:00.
Competitors should plan on parking in the area marked on this map: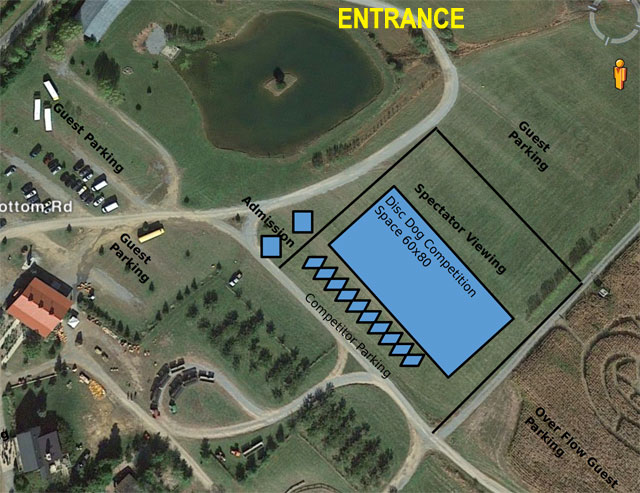 Here is a press release from Great Country Farms:
The annual Dog Days Festival is Saturday & Sunday, April 29 & 30, 2017 at Great Country Farms (GCF). This adventure for dogs and their people has something for every member of the family. The addition of a Disc-Dog Competition with the Appalachian Air Canines on Saturday, April 29th brings a new level of excitement to this year's event.
The Appalachian Air Canines is a small regional club made up members who enjoy having fun with their dogs through disc-dog sports. Novice and veteran competitors alike are encouraged to give it a try, and the top three finishers in each competitive division will receive award ribbons and prizes.
Contestants and their canine teammates earn points for basic throws and catches, with bonus points for mid-air catches in the Toss/Fetch event. Rules and guidelines can be found at www.aircanines.com. The event welcomes mixed-breed as well as purebred dogs of any age. Pre-registration is not required, and an entry fee of $10 per dog to compete is required. Every entrant will be provided with a premium, competition-grade Frisbee along with a lot of encouragement!
Canine guests know and love the confidence-building fun of Joyful Dog's signature Playground. Low-impact agility elements are safe and exciting for new and experienced dogs, and the popular T-Touch Training Labyrinth makes walking together fun for you and your best friend. Throughout the day, Joyful Dog trainers will be helping dogs and their humans learn a new trick, sharpen their skills, and have a blast together tackling the challenges in the canine playground. Founder and lead trainer Marnie Montgomery, and trainer, agility instructor, and competitor Susan Sanderson lead visitors in foundations for Agility and Parkour with tunnels, jumps, cavalettis and gentle stability challenges.
New this year is an introduction to Canine Nose Work with Certified Nose Work Instructor Rachel Binfield, CNWI. Your dog has an amazing nose! Come see him make the most of this fabulous skill.
"There's nothing quite like standing, walking, and being in balance with another creature," says Marnie Montgomery, owner of Joyful Dog LLC. "I relish those moments, and the opportunity to help others, canine and human, to live in that space." Joyful Dog works one-on-one with people and their dogs, teaching fun ways to live together using force-free tools and techniques for creative communication with your canine companion.
Polish up your dog's best trick and join the Doggie Olympic Games to go for the gold and prizes sponsored by The Joyful Dog, NOVADog, EJ's Meats & Treats and Vet Wagon. With a program of education and demonstrations from experts in animal health, training, and area services, the weekend is sure to keep tails a-waggin'. Kids and pets can explore the farm style attractions before boarding the wagon ride out to see the orchards and strawberry field in bloom.
All canine companions are asked to bring their owners on a leash and sport their finest rabies certification tag or have proof with them. Vet Wagon will be hosting a water station for Canine drinking to help keep Fido hydrated. The Farm provides scooping bags to help make the day excellent for all our guests so please clean up after your dog in all locations on the farm. Bring your water dog's favorite toy for a splash in the farm pond. Four legged guests can splash in the pond and relax in the designated off leash areas but should be leashed at all other times.
Leashed dogs are welcome on the farm all season to u-pick and play with their people. Visitors can monitor GCF Facebook and Twitter pages (@TheFarmerSays) for optimal U-Pick conditions or sign up for U-Pick alerts via www.GreatCountryFarms.com. This is especially helpful to know when to come pick the most popular fruits such as strawberries, cherries, blueberries and peaches as each comes in season.
The Roosteraunt concession stand is featuring freshly baked strawberry pies, and hand dipped Trickling Springs ice cream along with our famous Cider BBQ and signature salads, pizza flat breads, chicken sandwiches, and hot dogs!
Event details & schedule:
Saturday & Sunday, April 29 & 30. 2017 10am-4pm;
11:00-4:00pm – Agility and T-Touch Labyrinth by Joyful Dog Training
April 29th Only ~ Brews & Bones Appalachian Air Canines Frisbee Competition ~ 11am-3pm
Admission:
$8/child; $10/Adult; Children 2 and under and Military ID holders are FREE
Advance Tickets are $8/guest and are available online April 4-Thursday, April 21st.. GreatCountryFarms.com or contact 540-554-2073
Address:
18780 Foggy Bottom Road Bluemont, Virginia